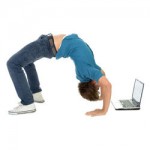 "A flexible layout isn't all that flexible if some of the component parts are fixed. Text easily reflows as it's container resizes, but what about images and other media? How do we make them flexible to keep our layout flexible?
Last week we talked about elastic layouts and flexible grids. Next week we'll look at media queries. We're building toward responsive layouts by discussing each of the 3 parts necessary for responsive design in a separate post.
All the credit here belongs to Ethan Marcotte and I recommend his post on flexible images. I also highly recommend Ethan's new book on responsive design.
Also Richard Rutter has set up a page experimenting with flexible images using max-width that's worth checking out."
Blog Categories
Advertising
Parse error
: syntax error, unexpected ';' in
/home3/bergerin/public_html/wp-content/themes/boldy/footer.php
on line
8