Browsing articles tagged with " web typography"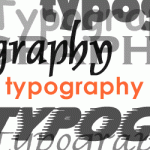 "Headlines are one of the most important elements on your page and are often the starting point that sets the tone for the entire design. So why not make them great?
Today we'll take a look at seven different design techniques that you can implement in a minute or less that will boost your headline from plain to awesome.
We'll start with the most typical and basic trick on the list. One of your most powerful tools for creating headlines is contrast, which we'll be using again and again throughout this post…"
Blog Categories
Advertising
Parse error
: syntax error, unexpected ';' in
/home3/bergerin/public_html/wp-content/themes/boldy/footer.php
on line
8