Browsing articles tagged with " internet explorer"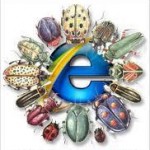 Internet Explorer is the bane of most web developers existence. Up to 60% of your development can be wasted just trying to squash out IE specific bugs which isn't really a productive use of your time. In this tutorial, you are going to learn about the most common IE bugs and rendering disparities and how to easily squash them or deal with them.
Interested? Let's get started.
Blog Categories
Advertising
Parse error
: syntax error, unexpected ';' in
/home3/bergerin/public_html/wp-content/themes/boldy/footer.php
on line
8